I have seen so many great tutorials about fusing plastic bags together, and making a tote bag out of recycled plastic is way up there on my massively long crafting to-do list. Because I am tentative about these things I decided to make something small first. I need to get comfortable with the technique and familiarize myself with what the resulting "fabric" will be like before I haul off on a tote bag!
So I made a little flower, which turned into a headband slider, which I really like. It's soft and flexible and up close you can't tell at all that it is from a grocery bag. In person the pattern looks abstract. I'll try to get a good action shot of it tonight at the movies.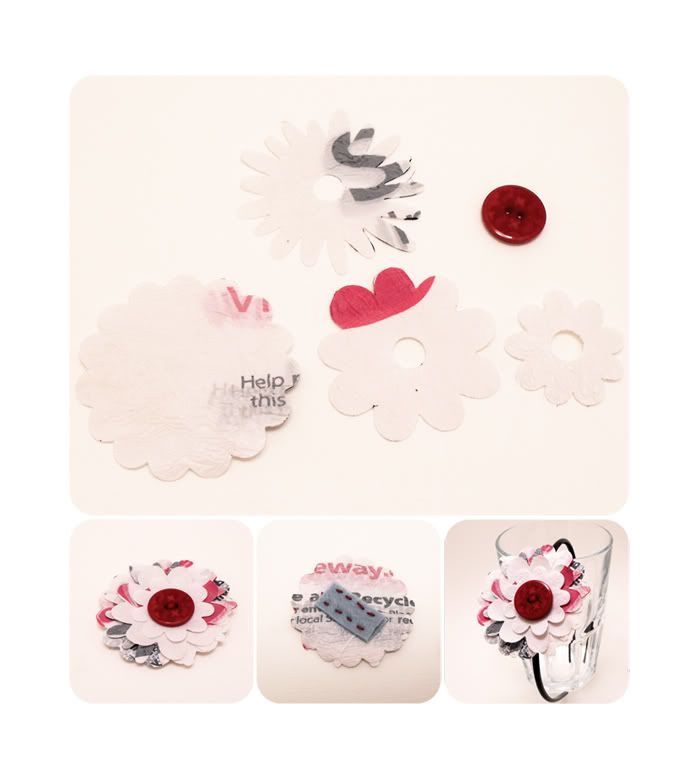 I followed
this tutorial
to fuse the bags together, then I used a couple of different Sizzix dies to punch the flowers. The plastic is really easy to work with and you could easily cut the shapes out with scissors if you don't have flower die cutters. Next I glued my flowers together, sewed on a button and then glued the whole thing to a couple of pieces of felt. I had already hand stitched the felt around the headband so that it would be snug, but so that I could remove it if I like.
The plastic fabric is really fun to work with, I can't wait to make more. Has anyone else used this stuff? What did you make?